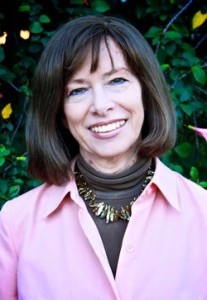 Thank you for stopping by my website! Many people have sweat blood and tears to create these lovely pages—I'm not one of them. <G> If I touch anything technical, I blow it up. My husband tells me it's my magnetic personality
So, who am I? I'm a bestselling author of historical and contemporary romance (with some paranormals and romantic mysteries too) who creates worlds filled with eccentric characters and strong heroines — and an accountant who can wield a mean tax return.
My latest contemporary paranormal series,Crystal Magic, doesn't have much to do with taxes, but Amazon reviewerslike it, and I'm having great fun writing it!
You can learn more about my books by signing up for my newsletter. (I'll also send you a free book when you join!) Just click the button below!
I want to sign up for Patricia Rice's newsletter!
A Career Built in Stone
My granddaughter thinks I began writing on stone during the Jurassic. She's close enough.
My first tomes, Love's First Surrender (1984) and Moonlight Mistress (1985), were handwritten on college-ruled paper with a Bic pen in 1980, then eventually typed up on an ancient electric Underwood with a dying S key. After I sold Lady Sorceress (1986), I graduated to a snazzy Smith-Corona with built-in erase-a-tape!
I'm not sure how many books I wrote that way before computers came to town.
My first old Leading Edge computer was haunted and kept losing my precious words, so I actually continued writing by hand for years—and still drag out the notebook when I need to ponder.
So far, the process has worked: I've published over 70 books, won a bunch of awards, and I'm still going!
What Should You Do Next?
Simple — stroll around my pages and see what catches your eye!
You'll find books filled with magic, romance, and mystery, cowboys and sailors, dukes and billionaires, set in worlds ranging from the contemporary to the historical to the fantastical:
Historical Romance
Contemporary Romance
Paranormal Romance
Mysteries
There are a lot of books to check out— I've been writing for a while—but I'd recommend starting with Wicked Wyckerly, the first book in my historical romance series The Rebellious Sons.
You can learn more about me and my books by visiting me on Facebook and signing up for my newsletter.
If you sign up today, I'll even send you an exclusive novella, STRAY MAGIC, a sequel to my  historical paranormal romance Unexpected Magic series. Just click the blue button below!
I want to start reading Stray Magic!
Thanks for visiting, and enjoy!
Patricia Rice