RECENT RELEASE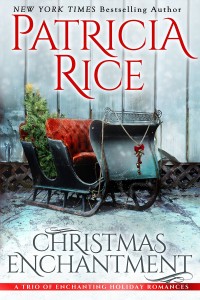 CHRISTMAS ENCHANTMENT
It's a magical time of year, and Patricia Rice delivers magical holiday stories to celebrate the season! This unique special collection brings together three of Patricia's favorite holiday romance stories in one joyful book.
Taking care of family and helping a once prosperous town survive was all Marian had in mind after the tragic death of her fiancé. The unexpected visit of a stranger with a heavy heart turns everything she knew upside-down. Maybe this will be the Christmas of change they both need – with a gift that lasts forever.
Rebecca gave up her comfortable home for love, but her husband died on a distant battlefield. Now she struggles to care for his young sisters, removed from the grace of her prosperous family. The last thing she needs is another soldier like Simon, whose soul has been devastated by war. But in this feisty woman, Simon sees a new goal worth fighting for—the love Rebecca has renounced.
Jeffrey fought the good fight in the halls of government but disillusioned, he returns home at the holiday, exasperated with life, law, and people. Much to his dismay, a sarcastic guardian angel leads him to question his sanity. Mary's bright humor and pragmatic views give him a gift he's never experienced – a way to look beyond himself and into the world again. Could she be the key that opens that last door at Christmas?
Enjoy these wonderful Christmas romance stories by bestselling author Patricia Rice to warm up the season!
---
RECENT RELEASE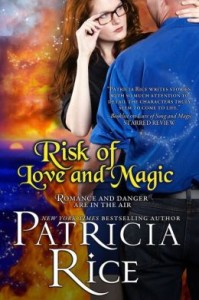 RISK OF LOVE AND MAGIC
Series: California Malcoms, Book #3
Order: Amazon | B&N | Apple | Kobo
Sparks fly when special forces meets psychic forces…
Brilliant psychic Nadine Malcolm is held prisoner in an asylum by her stepfather, a power-mad general. As the Librarian, she secretly hijacks computers to prevent his plans to turn paranormal children into weapons. When her younger sister ominously disappears, Nadine reaches through cyberspace for help.
Ex-Special Forces warrior Magnus Oswin has focused his formidable talents on stopping the rogue general who once held him prisoner. After picking up the Librarian's frantic plea, he roars into the fray in his latest engineering marvel, a modified muscle car.
The last thing Nadine needs is another military control freak in her life. The last thing Magnus needs is an aluminum-foil-wearing nutcase. But fierce attraction forges an uneasy alliance as two desperate people fight to save the children who cannot save themselves.