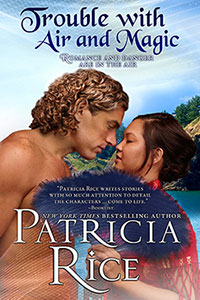 I am wriggling with excitement and much trepidation at the release of The Trouble With Air and Magic, the second book in my modern Malcolm and Ives trilogy. This is my first real e-book original, a book I wrote with the full intent of selling it myself. The Lure of Song and Magic, the first book of the trilogy, is still available through Sourcebooks But Trouble will be coming out through the editorial and promotional capacity of Book View Café , a co-op of authors and editors who help each other publish and promote books. It's a grand experiment, and I'm relying on my faithful readers to encourage me to continue!

Romance and Danger are in the Air

Dorothea Franklin's life is sliding toward disaster just as surely as her house is crumbling into the Pacific. Her unusual talent for feng shui can't bring harmony to her invalid father or prevent her brother from dying in an experimental helicopter crash. Or has he?
She turns to computer genius Conan Oswin, whose brother also reportedly died that day. When Dorothea informs Conan that she didn't feel the vibrations of her brother's death, he wants to dismiss her illogic... but his instinct for trouble is already on full alert. His attraction to her is almost as distracting as her nonsense about chi and harmony -- nonsense that plants doubts about the deadly crash. If only she would quit twisting his head with temptation, he might be able to save their brothers and her life.
Read an excerpt   .....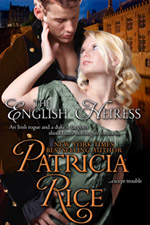 I also have a print version of The English Heiress available at Amazon and I'm almost ready with the print version of The Irish Duchess, so keep an eye out for an announcement. (In fact, if you'll sign up for the New Book Alert above, I'll pop a note directly into your mailbox.) I'm hoping to make The Irish Duchess, and eventually The Trouble With Air and Magic, available in print through all retail outlets. Creating print books can be done by professionals, but the distribution of the books is still in its infancy and can be costly to the reader. I keep looking for better alternatives.

Damn Him to Hell, the second in the Jamie Quaid Saturn's Daughters series, is scheduled for June 2013. The reissue of This Magic Moment will be available in April... I almost have The Notorious Atherton ready for July!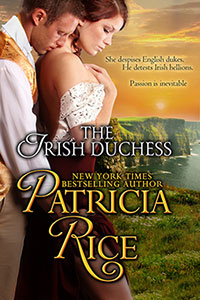 THE IRISH DUCHESS      
ISBN #978 1 61138 204-4 Book View Cafe, November 6, 2012
I hope as readers that you're as excited about seeing these long buried Regencies as I am about resurrecting them! It's been a bit of an adventure digging out and scanning old manuscripts and recovering deteriorating computer disks to piece together books that I wrote and sold in the late 90's, but which never saw the light of publication.
I've intentionally left the flavor of these books as they were written. The Irish Duchess is a traditional marriage of convenience story. There is still head-hopping and backstory and character development that print publishing no longer allows because of book length. I hope you'll enjoy reading them!

Duke meets shrew. Taming doesn't happen.
Neville Perceval, the bankrupt Duke of Anglesey, has been burdened since youth with more responsibility than one man should handle. He has finally accepted that he needs to marry a wealthy, gracious lady who will ease his financial burdens and smooth his political career.
Fiona MacDermot, the rebellious, untamed cousin of an Irish earl, has the freedom and independence Neville has never known. Like the duke, she needs cash—but in her case, it's to help starving villagers and orphans. Unfortunately, she'd rather earn a living than have anything to do with useless men, and the politicians she knows all belong at the wrong end of a rope.
But when the duke is nearly beaten to death, and Fiona's looms are lost to a murdering thief, their lives are entangled in ways that threaten their futures. Lust shouldn't factor into their destinies, but it does, and now they have to find their dreams together, or die trying.
I'm continuing to add backlist to my e-book reissues. Keep up to date by checking the Book menu above . You'll find lists of all my previous print titles and series, and if you'll click on the e-book link, or check my page at Backlist Ebooks you can see what's currently available electronically.
Drop by my Facebook or blog pages or send me a note anytime—I love to hear from readers.