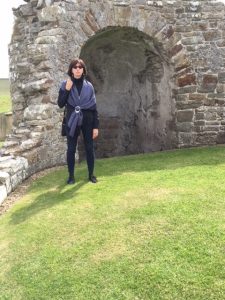 I'm just back from the United Kingdom, having attended the Romance Novelists conference in Yorkshire with several of the Word Wenches, followed by a research trip into Scotland with Mary Jo Putney. I love traveling, but it's even better when you have the company of someone who understands why it's necessary to photograph every inch of a two-hundred-year-old croft house. Exchanging writerly war stories and brainstorming new plots over a bottle of wine really enriches the experience!
I'm back just in time to remind everyone that the third book in my Crystal Magic series–Crystal Vision–will be out August 7th. If you haven't looked into the series yet, it's a contemporary take on the descendants of the psychic characters in my various historical Magic series. I'm loving playing with the idea of people with odd abilities dealing with the modern world. Even those with paranormal gifts try to explain them scientifically these days.
But what I'm really loving is developing a truly special fictional town in the Santa Cruz mountains—a place where science and magic might divide the inhabitants, but they still have to work together to survive. Take a peek at an excerpt and see what you think!