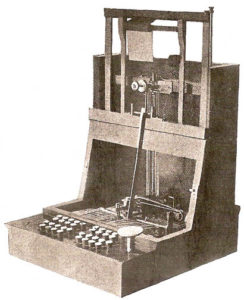 I'm still heavily researching my new Victorian Edinburgh series–the School of Malcolms. If you want to see what I've been doing, pop over to the Word Wench blog. Here's a link to my post on Victorian train travel and another on knives and swords.   And if you use a computer keyboard, you might want to read the history that created them.
All of this research will show up in bits and pieces in the School of Malcolms series, knock wood!
If you've missed my news, you can sign up for my newsletter on my website https://patriciarice.com/  You'll not only receive a novella available only to my readers and other freebies, but then you will never miss another reader-only bargain, my travel tales, recipes, and sneak peaks into the next book!
Apparently my website currently isn't accepting links so here are the URLS;
Victorian train travel: https://wordwenches.typepad.com/word_wenches/2019/08/victorian-rail-travel.html
knives and swords: https://wordwenches.typepad.com/word_wenches/2019/07/the-romance-of-knives.html
computer keyboard  https://wordwenches.typepad.com/word_wenches/2019/09/pterotype-anyone.html