The first of my excerpts for Magic in the Stars have been going out, and I'm receiving a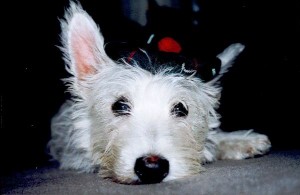 deluge of lovely mail pointing out that my hero doesn't know the name of his own dog. Well, people have been a little politer than that.
What can I say? When I write, names change. It just happens. It's part of the process, and at some point, I hope I catch all the  changes and settle on a final name. (Although the heroine of current WIP has probably gone through a hundred name changes by now!)
But my real fault was in letting the excerpt go up before it was proofed. We organize so much of this in advance that sometimes it's impossible to remember what I did when, and this is one of those cases. I apologize.
And in case you're wondering, his dog's name is Hog. And that's not him in the picture. <G>