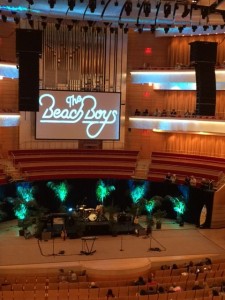 When I was too young to know better, I fell in love with the Beach Boys and their California rock music. I swear, my daughter was born singing "Fun, Fun, Fun." Maybe all that surf music was the reason we gravitated to the west coast. So when what is left of the group played in the Arts Center at Costa Mesa, it only seemed fitting to see the band that started it all. 
A blast from the past is just what is needed to make us feel young again. We rocked with an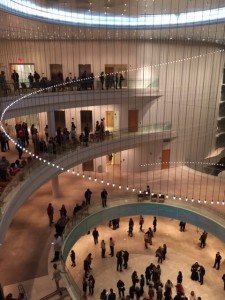 audience of all ages, talked to people who'd known the original group when they were growing up, and thoroughly enjoyed the talented musicians who have taken up the music with as much verve and expertise as I remembered from my first concert in another millennium.
And we learned more about this fabulous concert venue. I love the snail shell architecture and the wonderfully cozy balcony seating where there's room to dance! The concert hall is part of the Segerstrom Center for the Arts, an amazing complex for celebrating dance, theater, and music.
Do you have the opportunity to enjoy the arts? How often do you take it?